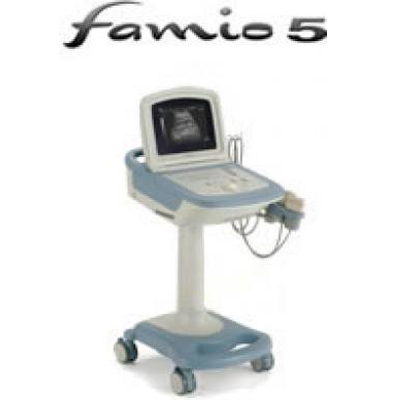 SMART DIAGNOSIS STARTS WITH FAMIO 5
A full range of functions, all in a small, compact body. The new Famio 5. A system with outstanding diagnostic capabilities covering a wide range of applications. High clinical versatility. Easy to use. Fast start-up. Alldigital exam storage and networking. Famio 5. Smart Ultrasound in a compact unit, designed to ease your daily practice.
ROLLS OUT QUICKLY WHEN YOU NEED IT
• Sleek, integrated design with excellent mobility.
• Fold-away color LCD screen with high image quality.
• Ready for scanning in just 10 seconds.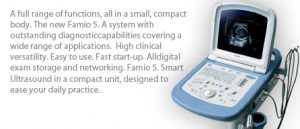 PUTS DIAGNOSTIC POWER IN YOUR HANDS
• Triple-frequency broadband transducers for all applications.
• One-touch image quality optimization provided by IP dial.
• Sharp, clear images at any setting with AutoFocus function.
ADJUSTS PERFECTLY TO YOUR NEEDS
• Intuitive panel with programmable key functions for smooth operation.
• Unique Palm Controller for easy operation with minimum hand movement.
• Fully featured, programmable measurement package.
LETS YOU GO DIGITAL
• Digital image storage on integrated hard disk or CD drive.
• Digital transfer of images via network directly to your PC.
• Digital transfer of patient information and measurements.