2D PAN PROGRAMS
Standard Panoramic
Adult Standard Panoramic

Child Standard Panoramic

Adult Right/Left Hemi Panoramic


Child Right/Left Hemi Panoramic

Adult/Child Frontal dentition

Adult/Child TMJ open/close mouth

SINUS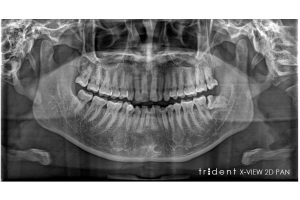 Convenient patient positioning for better treatment
Thanks to the ergonomic, clean-cut design, X-VIEW guarantees excellent patient positioning with the assistance of the fixing accessories: the biting block (for panoramic X-rays), the chin rest (for 3D X-rays), the temple stabilizers to keep the patient's head stable, the head mirror, the Frankfurt horizontal plane laser light and the medium vertical laser.  All of them help to keep the patient in the appropriate position, reducing the need for further examinations. The height of the unit can easily be adapted using the motorized column.
Metal base
You can choose to install X-VIEW directly to the wall or support it in a metal stand base.

7-inch color touchscreen
The ideal size of the display enables users to easily read the anatomic icons for a quick and intuitive navigation through the menu.
DC Generator
X-VIEW avoids the emission of unnecessary radiation by using a high-frequency "pulse mode" generator that guarantees a perfect balance between the image quality required and the amount of radiation emitted.
 X-RAY GENERATOR

Characteristic

Value

Type
High frequency generator, DC
Tube Voltage
85 kVp
Precision kVp
± 8 %
Maximum Anodic current
10 mA
Anode current accuracy
± 10%
Radiation Output linearity
< 0.2 IEC 60601-2-63 paragraph 203.6.3.1.101
Duty cycle
Adaptive Duty cycle according to
theexposure and dielectric oil temp.
Transformer Isolation
Oil bath
Nominal power
850 VA (85 kVp – 10 mA)
Total filtration
2.5 mm Al eq. @ 70 kVp
Half Value Layer (HVL)
> 2.0 mm Al eq. @ 60 kVp
> 2.7 mm Al eq. @ 74 kVp
> 3.05 mm Al eq. @ 85 kVp
Cooling
As per convection
Focal spot
0.5 mm (IEC 60336:2005)
Leakage radiation at 1 m
< 0.5 mGy/h @ 86 kVp – 10 mA – 3s duty cycle
1/16
Max thermal capacity of tube head
900 kJ
Exposition parameters regulation
kVp
From 61 to 85 kVp, steps of 3 kVp
mA
From 5 to 10 mA, R'20 scale